Media
For all media enquiries please email directly to amanda@moppetpoppet.com.au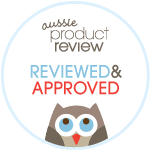 Mopet Poppet recently submitted an outfit to the wonderful team over at Aussie Product Review http://aussieproductreview.com.au/
Read below for their very kind words!
'My little girl just loved the outfit selected for her doll 'Sally', not only did Sally try on the outfit so did teddy Tessa. While watching my daughter play, I could see how easy it was for her to put the clothes on and take them off again thanks to the Velcro fastening. I particularly liked that the shirt has Velcro right they way down so she could slip Sally's arms through as opposed to putting it over her head. It made dressing Sally very easy for her and she had no need to come to me for help.
From my point of view the concept of Moppet Poppet is fantastic. This online shop has now given me the choice to buy fashionable outfits instead of having to buy a new doll or the additional outfits for the doll which, at times, I do feel can be inappropriate for my 5 year old. The quality of this outfit was superb. There was not a stitch out of place and they were finished off very nicely as there were no extra thread or fabric on the inside of the clothes. I have already washed the top twice due to grubby fingers and the top came up as good as new; no stains, still in shape and the stitching in tact.
I showed my daughter the Moppet Poppet website, a slight mistake on my behalf because she now wants everything lol, but that does go to show the range Moppet Poppet stock is exactly what children will enjoy.

There is a huge variety of different designs for you to select from. I am extremely impressed by what Moppet Poppet has to offer and the quality.'
Mums in Biz Perth is a dynamic and motivational small business group located in Perth's northern suburbs. We aim to provide support and education in a child friendly environment! http://www.mumsinbiz.com.au/index.html
I am a founding member and currently hold the position of Treasurer.
We love supporting (and being supported by!) other amazing small, home based or family run business.
This image is thanks to Karen at Build a little Biz http://www.buildalittlebiz.com/
I think this says it all!